Affordable Options for Sewer Pipe Replacement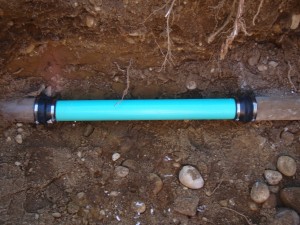 Your home's sewer pipe is what joins the city's main sewer line to your home's waste removal system. If this line needs to be replaced, you could easily be looking at a couple of thousand dollars. While average sewer pipe replacement in West Covina is around $2300, if the cracked line is beneath a driveway or street the cost can skyrocket quickly launching you into the $10,000+ range.
Those are scary numbers. Most homeowners don't have the savings set aside to pay for such an expensive repair. Even if you do have the money, do you really want to spend it on sewer replacement? Luckily, thanks to technology, homeowners have more affordable options for sewer repairs. While this is still a hefty job – financially and physically, speaking – there are ways to ease the financial burden.
Trenchless Sewer Line Replacement Is Cost-Effective
The reason that sewer pipe replacement in West Covina and surrounding neighborhoods is so expensive is because the excavation process is intense. Plumbing companies that use traditional sewer repair and replacement methods often tear up large sections of driveways, backyards, basements, etc., to locate the damaged area and then make repairs.
Excavation is labor-intensive. Any sort of plumbing issue that involves so much labor is going to cost a fortune. West Covina Star Plumbing tries to avoid unnecessary excavation at all costs. We advise homeowners to consider trenchless sewer line replacement whenever possible because it is a procedure that can repair or replacement sections of piping without unnecessary digging. This type of repair uses cured-in-place-pipe lining methods (CIPP). It's not an option for every single sewer line issues, but we encourage our customers to discuss this option with their licensed plumber to see if their problem can be solved in this manner.
Sewer Drain Cleaning Saves Money
Many sewer line problems are due to obstructions that have cracked the piping. These clogs could be years of waste formation or tree roots that have grown into the pipe. Homeowners who have regular sewer drain cleaning service often experience fewer problems that require sewer pipe replacement.
To learn more about sewer pipe repair and replacement, contact your local West Covina plumber. At West Covina Star Plumbing, we offer same-day service, guaranteed workmanship, and affordable plumbing service designed to provide value without sacrificing quality.